---

Functions as a Phone Stand and a Fidget Toy


Transformable Design
Spinning top toys can be changed into different shape robots. It can exercise refined motor skills, hand-eye coordination, rapid reaction skills, and logical thinking skills. They can promote muscle development and healthy growth.
Great Toys for Fidgeting, Anxiety, and Quitting Bad Habits
With our Transformer Fingertip Spinner you will be able to curb unwanted habits such as nail-biting and smoking. Instead of fidgeting around with your fingernails you can simply grab the Transformer Fingertip Spinner and play with it instead.  
Suitable For Children With ADHD and Focus Issues
The Transformer Fingertip Spinner is great for releasing anxiety and nervous energy, relaxing, staying awake and improving focus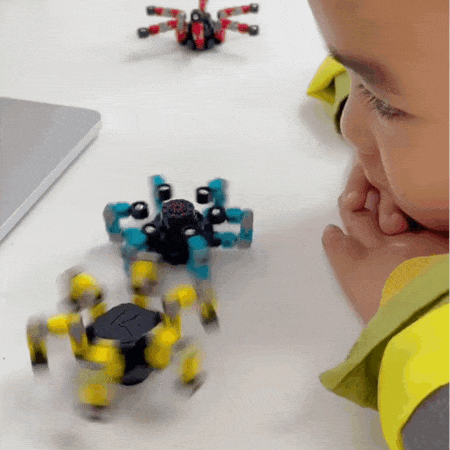 It's A Great Gift For Everyone
The Transformer Fingertip Spinner is a unique and practical gift. Sensory fidget toys are suitable for students, office workers, children, parents and your friends!!!
Safe & High Quality Material
The Transformer Fingertip Spinner is made of high quality ABS plastic and steel balls. It's pressed at high temperature with excellent craftsmanship and will not deform with long-lasting play. 100% satisfaction guaranteed or your money back!

Smooth Rotating
The fidget spinner has a high speed bearing in the centre to ensure the smoothest rotation and consistency as well as to increase centripetal force and spin time. The spinner can spin for several minutes.
Suction Cup Action

The Transformer Fingertip Spinner has powerful suction cups that can stick on any smooth surface so that you can put it on the wall, window, table, or other places
Specifications

Material: plastic and steel
Colour: red, blue, yellow, 3 pack or 6 pack (all colours)
Size: 13*13CM
Suitable age: kids and adults
Type: decompression & educational toy
Feature: suction cup, transformable design, smooth rotating, portable
Functions: stopping smoking, stress relief, focus attention
Included: 1 x Transformer Fingertip Spinner